This script is based on an early-twentieth century American adaptation of the French Ronde found in European writing manuals reaching all the way back to the mid-1600s. The common American name for this script is French Roundhand. The American style incorporates various aesthetic differences from French Ronde, which makes it extremely easy to learn and fun to write.
French Roundhand serves as a wonderful introduction into the discipline of broad edged calligraphy and is particularly well-suited for anyone interested in producing traditional engrossing work in the American styles.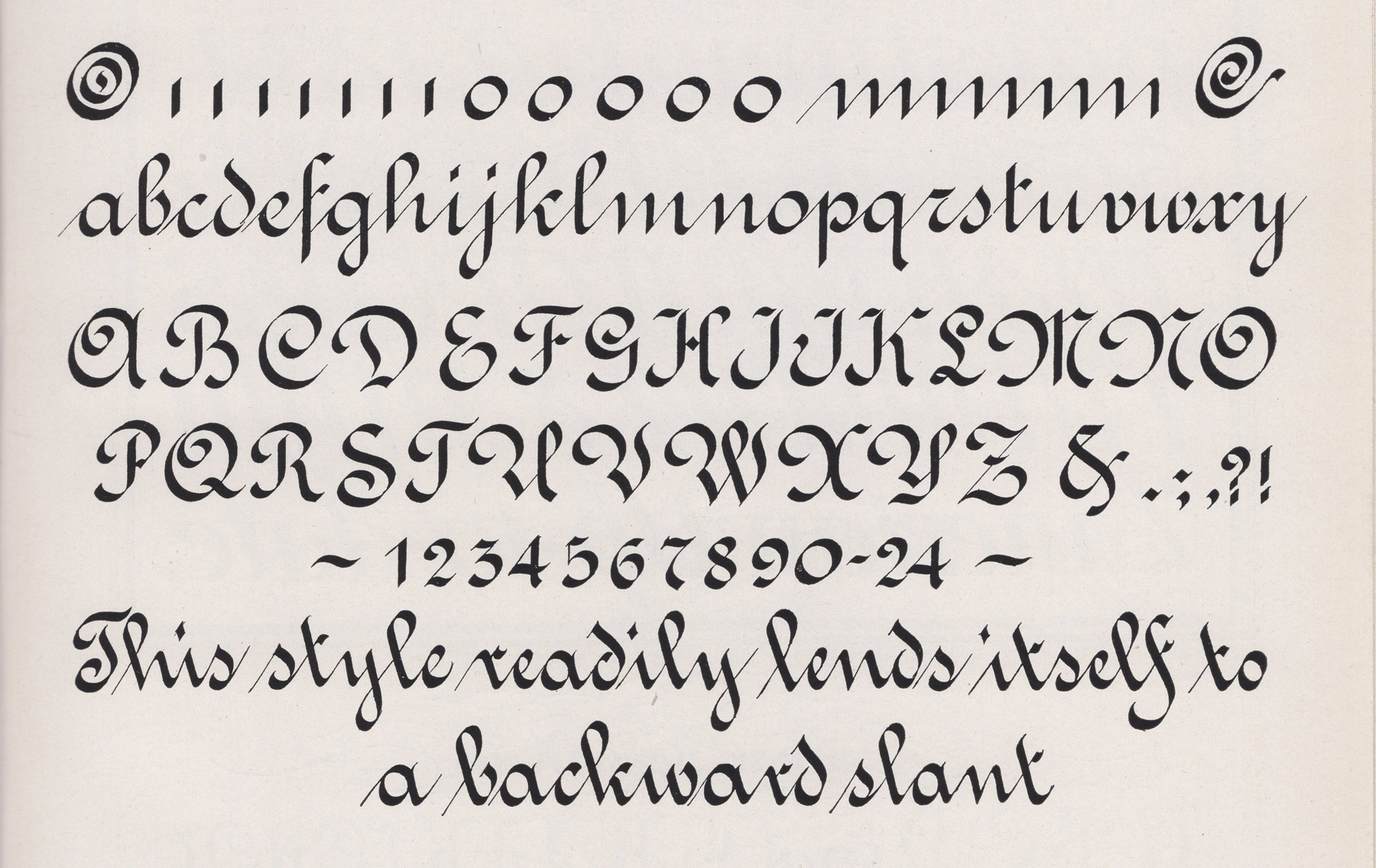 David first learned about this script from The Zanerian Manual, where it appears on the 37th page of the 1924 edition (Plate below) under the heading "French Round Writing" by Charles Norder. The forms drew him in through their dramatic, yet simple designs and systematic spacing—spacing which is controlled by a restricted pen angle and extremely easy for a beginner to learn to produce competently.
French Roundhand 2021
(Group 2)

What's Covered?
Registrants in the French Roundhand 2021 program will receive:
Instruction in the Principal Strokes of Grimes Method French Roundhand.
Directions for the formation of all letterforms, both minuscule and majuscule.
Details surrounding the theory and formation of methodical and skillfully formed words and sentences.
Resources for developing good study habits and project management skills.
Experience participating in public constructive critiques.
These topics are divided across three distinct courses of content delivered over a period of about ten weeks.
Schedule
Registration opens on October 1st, 2021 at 9:00am PST.
The first section of Intro to Calligraphy (CA100) becomes available on October 1st, 2021 and each subsequent section of the French Roundhand Pathway is released at one-week intervals for the duration of the course (about ten weeks). All lessons are pre-recorded so you can complete them at a time that works for you throughout the week.
The release schedules for the three courses in the Pathway are as follows:
October 1st, 2021 – The first section of Intro to Calligraphy becomes available
October 8th, 2021 – The entirety of Intro to Broad Pen becomes available
October 15th, 2021 – The first section of French Roundhand I becomes available
What's Included?
By enrolling in this Pathway, you received bundled access to all three classes in the French Roundhand Pathway. If you have previously completed our Intro To Calligraphy class while participating in another one of our programs, you are not required to take it again. (Some lessons will be updated, though!) Please simply submit the Final Prompt specific to the French Roundhand Pathway.
With your registration, you retain access to your login, all lessons in all three classes in the French Roundhand Pathway, and the Community Forum for your specific class for three years from the date of purchase.
Although feedback is not guaranteed on every post in the Community Forum, a combination of the efforts of the DIS Team and the participation of every student allows us to build a world-class community around peer critique. The DIS Team is only involved in offering critique during the initial release following your registration. After that, we're focused on next year's class and will be less responsive.
To get the most out of this course, participate along with the release schedule of each section. That way, you are completing lessons at the same time as your classmates. Although you have access for three years, most of your classmates will complete it in the first year. Years two and three tend to be more for self-study and skill-maintenance.
Tuition and Fees
Tuition for Dreaming in Script — French Roundhand 2021 is $250.00 USD.
The only additional fees/costs are purchasing the required materials and a Graduation Fee for printing and shipping your Certificate of Completion at the conclusion of the course. This optional fee is typically about $25.00 USD for US students. Additional shipping costs are associated with the more advanced Certificate of Merit and certificates shipped outside of the United States. Certificates are only granted during the first Graduation Ceremony following your registration. (July 29th, 2022)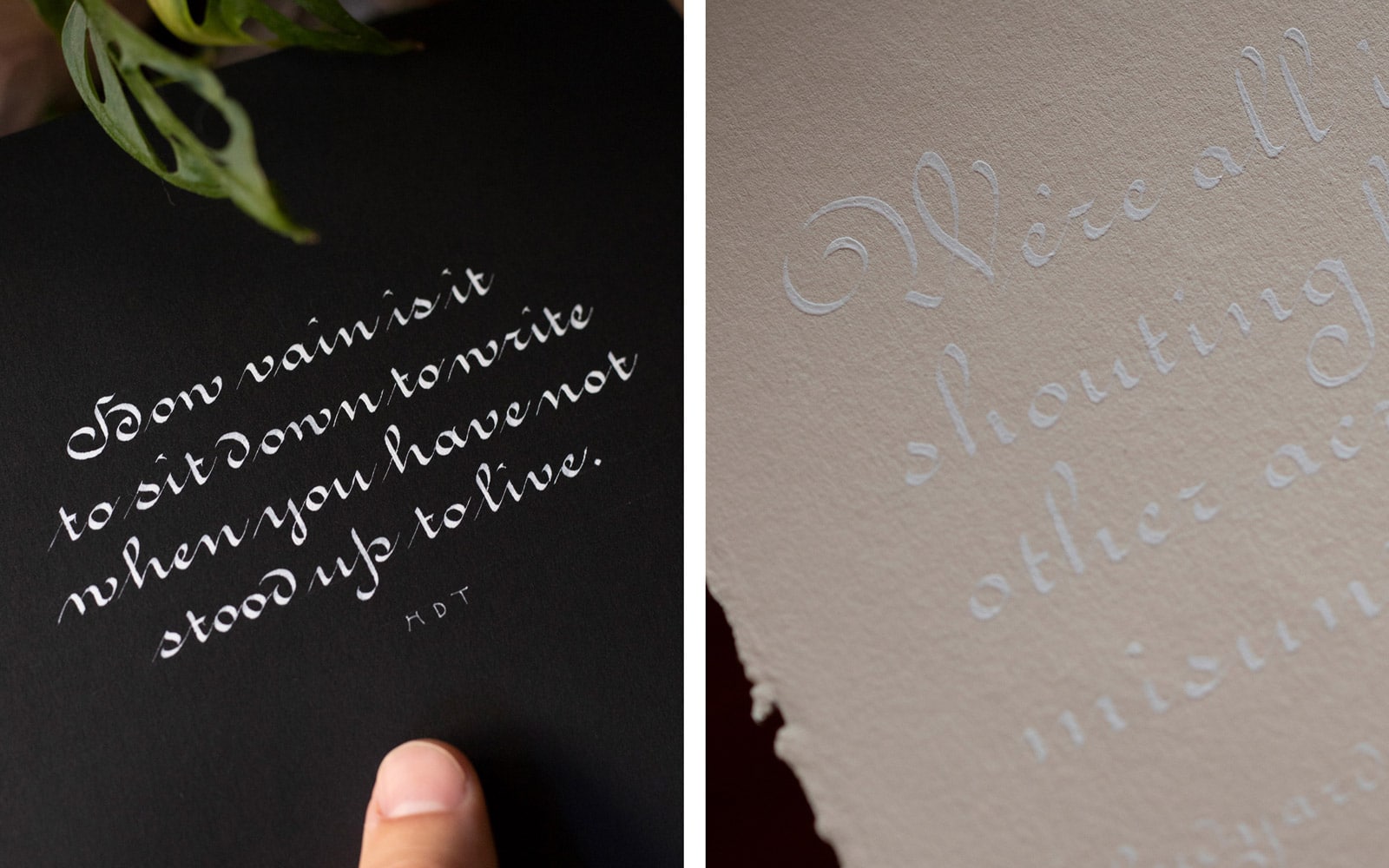 What's expected of students?
As our School of Penmanship has grown, we've shifted our priorities from obtaining the maximum number of registrations to finding the highest quality students. We want to help you become an amazing calligrapher. Regardless of where you are in your own journey, we want students who want to be great.
Enrollment in the 2021 French Roundhand program will be limited to small number of seats so that David can adequately interact with as many of the registrants as possible. As a Dreamer, you'll be expected to meet deadlines, complete quizzes, and participate in a members-only Community Forum to advance through the course. Turning in homework is required to unlock more advanced sections of the curriculum, so be ready to commit to learning alongside your peers before you register.
Peer critique is a core part of every DIS program, but don't let the thought of having your work "criticized" scare you off! We even cover how and when to offer critique in a respectful and constructive manner. We believe that open, professional discussion is the "secret ingredient" to making exceptional progress in your calligraphic endeavors.
Lastly, you will be responsible for the technical side of accessing the course through your chosen device. The course is accessible through smartphone or tablet, but those types of devices occasionally have issues with the super-high-resolution images that our software loads. We recommend using a desktop/laptop computer to interact with your course materials. You are the first line of defense in your own technical support. We will be paying close attention to issues on our end that break things for all users, but you are expected to understand how to research and solve problems with your own devices. If you're the kind of person who regularly says "I don't do technology", make sure that you carefully consider that this is an online course delivered through digital assets. You will be interfacing with computer technology every time you interact with the course!
---
How do I sign up?
The course capacity was met in the first several hours of launch. Thank you for your interest! We are currently sold out.
Sold Out