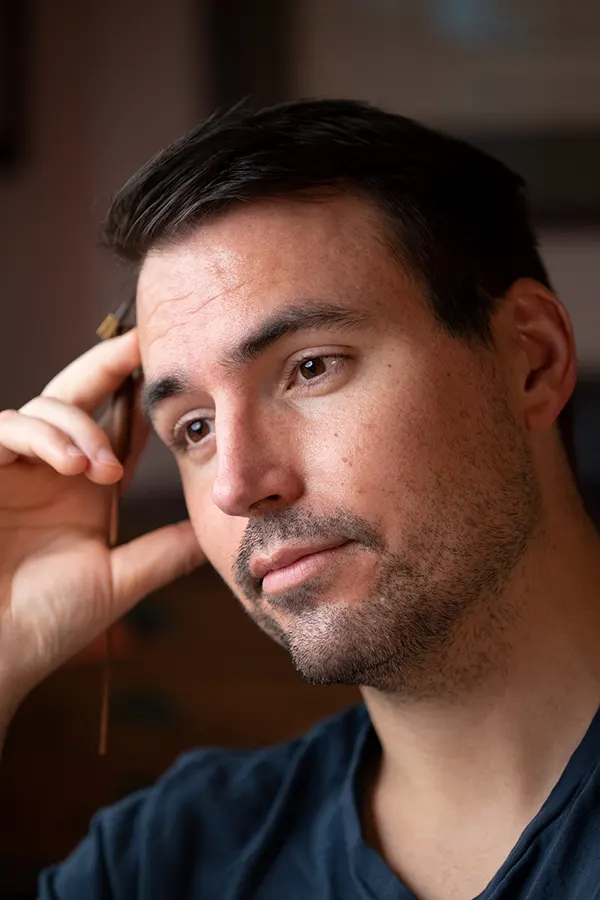 Where did all of this start?
My high school calculus teacher, Mr. Jensen, used to take a week-long break each year to teach his students calligraphy. I appreciated the time off from plotting quadratic equations at the board, but I couldn't say that calligraphy particularly spoke to my soul. It seems that many calligraphers are connected by a common theme of always knowing that they loved letters, being inspired by a parent's beautiful handwriting, or any number of origin stories worth raising an eyebrow at. At seventeen, I couldn't care less about my handwriting.
Back then, I had other things on my mind. Penmanship was something I'd never been particularly good at, so when I turned in homework to my teachers, I could imagine them sitting at their dining table grading my papers and thinking that I wasn't meant for much. I thought my letters made me look unintelligent—an insecurity aided by my occasional trouble-maker attitude and (what I thought was) some pretty stellar punk-rock attire.
At seventeen, I couldn't care less about my handwriting.
As a young adult, I moved to Tucson and enrolled in a graphic design certificate program at a local community college. Maybe I got really lucky, or maybe community college was just what I needed. In my time at PIMA, I learned about rendering, art history, typography and layout. My instructors pushed me to think about design problems which caused me to place a more critical eye on the world around me. In hindsight, that was definitely the kind of design education I needed: practical, accelerated, and economical.
Alas, I was not meant to be a designer. Not in the context that I originally set out to become one. When I moved to Portland, Oregon, I found myself at odds with what felt like some superficial aspects of what it meant to be a designer trying to break into ad agency life. I freelanced for a few years and found some success working on projects for some interesting companies, but I wasn't passionate about designing iPad apps. It wasn't long until I looked to fill my nights with something that felt more like what I had hoped to feel. That's when I stumbled across my novel interest in lettering.
Over the course of some thirty days sometime in 2013, I dove into learning about a few different types of calligraphy and that led me eventually to an interest in American penmanship—specifically Engrosser's Script, a style of writing that I'd spend the next seven years chasing proficiency in.
Today, I own and operate Masgrimes—a combination of the second-half of my middle and surnames. Originally founded as way for me to pursue the occasional professional calligraphy work, Masgrimes has grown to be much more than that. This studio is focused on the traditional and historic preservation of American Penmanship and a lot of the work that I undertake is to conserve that rich history either through the standards that I hold for the artwork that comes out of the studio and the penmen we hire, the materials I produce for students in my professional training programs, or the literal preservation of historic specimens that I travel all across the United States to research and document.
I could wax poetically about the reasons that I have fallen in love with letters, how they've altered the course of my life and sent me to countries, continents and groups of people I wouldn't have ever had the chance to see otherwise, but anything I could say would fall short of the intangible security that I feel when I am working within the discipline that is this art. I sometimes wish I could contact my younger self and tell him that he was going to be a calligrapher. I wonder if that assurance would have given him something to look forward to like I do each day I'm fortunate enough to sit with my pen.
Life continues to evolve, both alongside my penmanship practices and independent of them. As the years go by, I am working to determine what kind of trajectory can be expected if I continue to push myself and develop my skills and perspective. For now, I am content to sit with the daily practice and enjoy the small victories and failures in each facet of my passionate practice as they arrive.
If you'd like to chat, please feel free to say hello.