June 13th, 2019 by D. T. Grimes
Have you ever wondered about the curious devices that you see in your favorite calligrapher's photographs? Maybe you were curious about that little mechanism peeking out of the blurry background in a picture from your favorite writing manual? If so, you and I have something in common! There are hundreds of articles talking about which nib to buy, or where to find paper that won't bleed, but there isn't much around about sharing the more esoteric tools used by professional scribes from around the world.
---
March 7th, 2019 by D. T. Grimes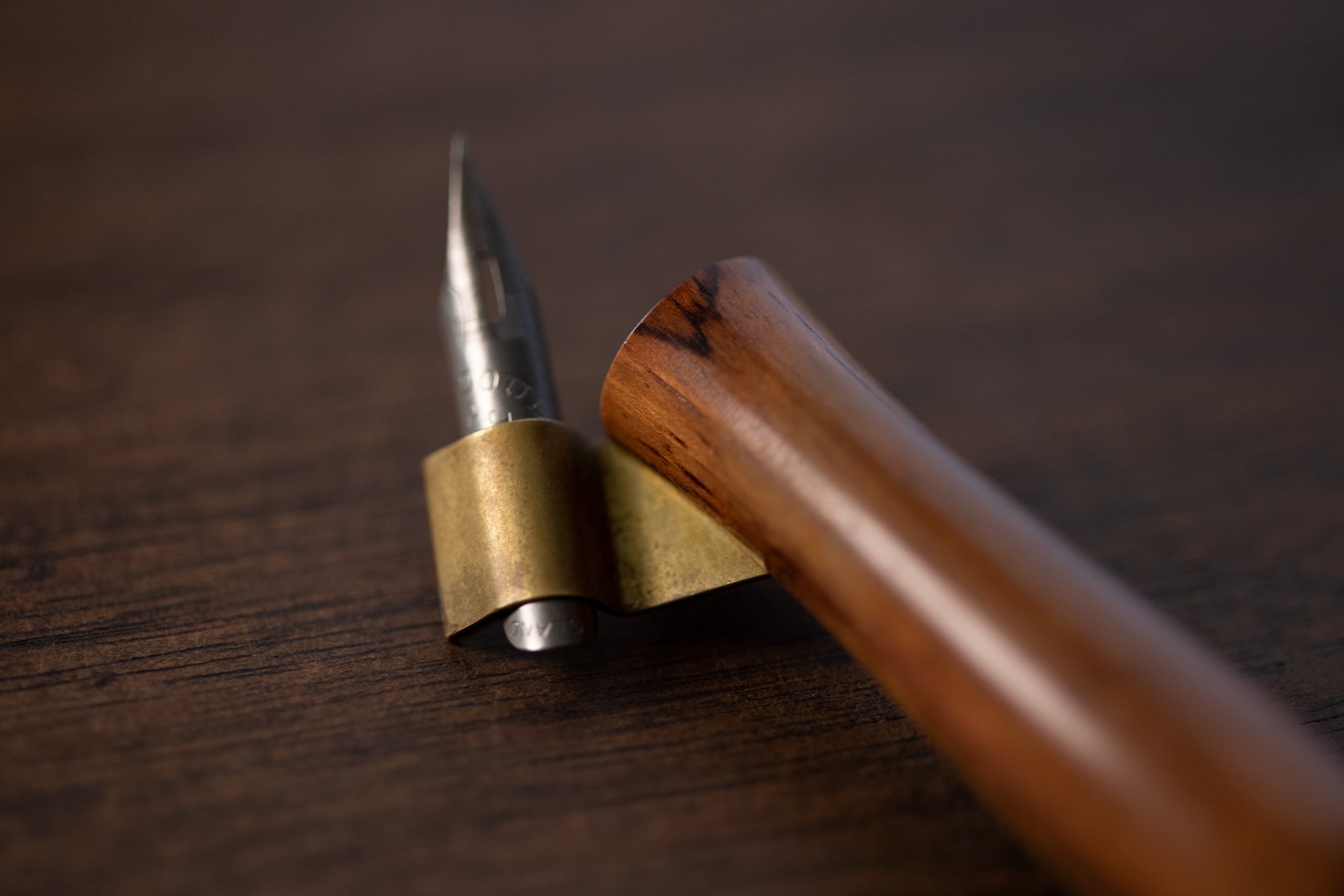 So, you've just received your first oblique holder and you're ready to start practicing calligraphy like it's going out of style? I know firsthand how exciting a new pen can be. Over the years, I've had the pleasure of writing with pens from many different makers and companies. I've written with pens that belong to hundreds of students. I've even made several dozen pens myself. The one thing that I've noticed about every single one of them is this:
---
February 28th, 2019 by D. T. Grimes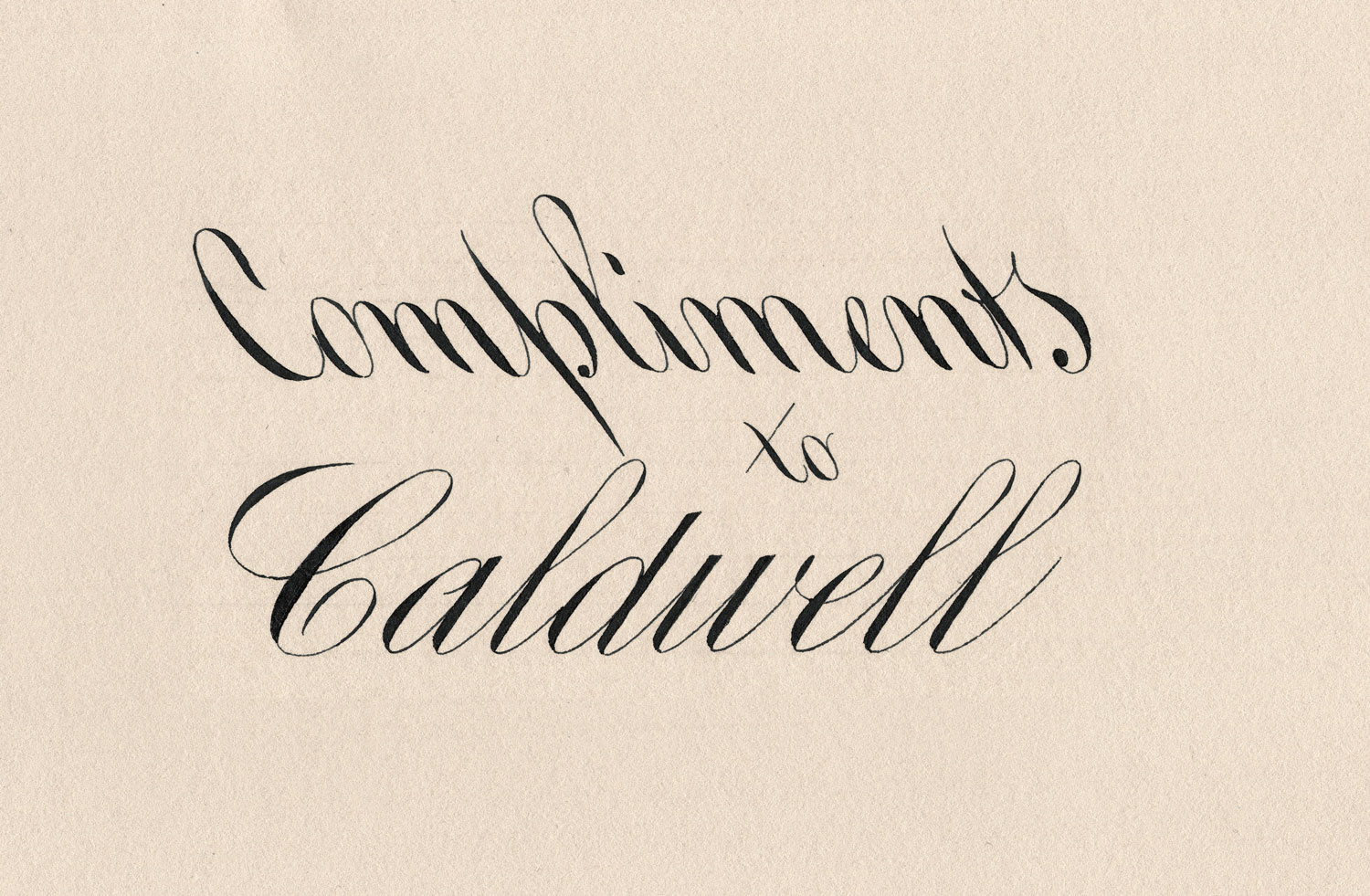 Gretchen Caldwell is a mother, biochemist, paramedic, dog-trainer and a Merit Student of Dreaming In Script set to graduate in 2019. Over the last six months, We've watched Gretchen struggle and grow with a number of different projects and skills as she has progressed into quite the penman! We're proud to present a student feature about her progress and thoughts on her calligraphic journey and hope that it inspires and encourages those of you working on developing your own skill. Gretchen is a generous, humble, and enthusiastic friend and we feel very fortunate to call her one of our hardest-working students.
---
April 16th, 2018 by D. T. Grimes
Over the last year, my interest has shifted towards a more rounded and historical approach to penmanship and script lettering as it was done by the penmen of the past. During this transition, I've felt myself endeared to a style of penmanship that had eluded my intrigue for some time: Business Penmanship.
Amidst this refocusing, I've found myself drawn to those with a distinctly technical, yet philosophical approach to their writing. One figure that stands at the forefront of that list is a gentleman named Michael Gebhart, a penman since 2015 living in Nashville, TN.
---
November 15th, 2017 by D. T. Grimes
A few years ago, I stumbled upon a woman named Nina Tran on Instagram who was spearheading a hashtag initiative called 'Handlettered ABCs'. Without asking, I jumped in and started broadcasting corresponding majuscule lessons each morning after she had concluded her minuscules on Periscope. As the following weeks passed, I quickly learned how sincere, genuine, and talented my new friend really was.
During my first visit to teach in LA, Nina and I finally got to meet in person. It was then that I learned Nina was much much more than just a community leader — she's an artist and dreamer. I'm so excited to be able to conduct this interview and help to shed a bit more light on the other facets of Nina that make her rise to her prominent place in the Copperplate world all the more impressive. You can find more information about Nina on her website, anintran.com, and follow her incredible progress on Instagram.
---
January 24th, 2017 by D. T. Grimes
Mr. James Fazz Farrell is a calligraphy artist and teacher of Spencerian and Roundhand from Buckinghamshire, England. His work was first called to my attention in 2015, by a student who had begun to study online with James through video calls on Skype. Those of you who have taken workshops or lessons with me know the high regard in which I hold James and his outstanding writing ability, and it is my most sincere honor to be able to share this interview with all of you so that we might better know the man behind the pen. You can find James and his work on his site, at www.jamesfazzfarrell.blogspot.it, or on Instagram at www.instagram.com/james_fazz_farrell.
---
December 19th, 2016 by D. T. Grimes
Edward Curran is a calligrapher and up-and-coming pen maker from Bedfordshire, England whom I had the incredibly fortunate opportunity to become friends with during the IAMPETH Conference in the summer of 2015. Edward is an Irishman, through and through, and our friendship stems from our mutual affection for the pen as well as his incredible patience with this thing I do where I adopt the accent of anyone I meet (Thanks for putting up with me, Ed!). You can find out more about Edward and his work on his site, at www.currancalligraphy.co.uk, or on Instagram at instagram.com/curran_calligraphy.
---
October 25th, 2016 by D. T. Grimes
Mr. Joan Quirós is a graphic designer who specializes in custom lettering and calligraphy, and currently lives and works in Valencia, Spain. Over the last three years, I've kept a vigilant eye on Joan's work as he grew into the formidable calligrapher that he is today. Luckily, he agreed to speak with me about his journey so that I may share it with you as an entry in the Splitting Tines interview series. You can find Joan and his work on his site, at www.joanquiros.com, or on Instagram at instagram.com/joanquiros.
---