July 25th, 2022
Please join us on YouTube on Friday July 29th at 6:00pm PST for the 2022 Dreaming in Script Graduation Ceremony.
We have fifty-eight individuals to honor during the ceremony and will be displaying the Merit Graduate's certificates on screen during the stream. Invite your friends and family to come and join us in honoring the hard work of these students and their contributions to furthering the Art of penmanship.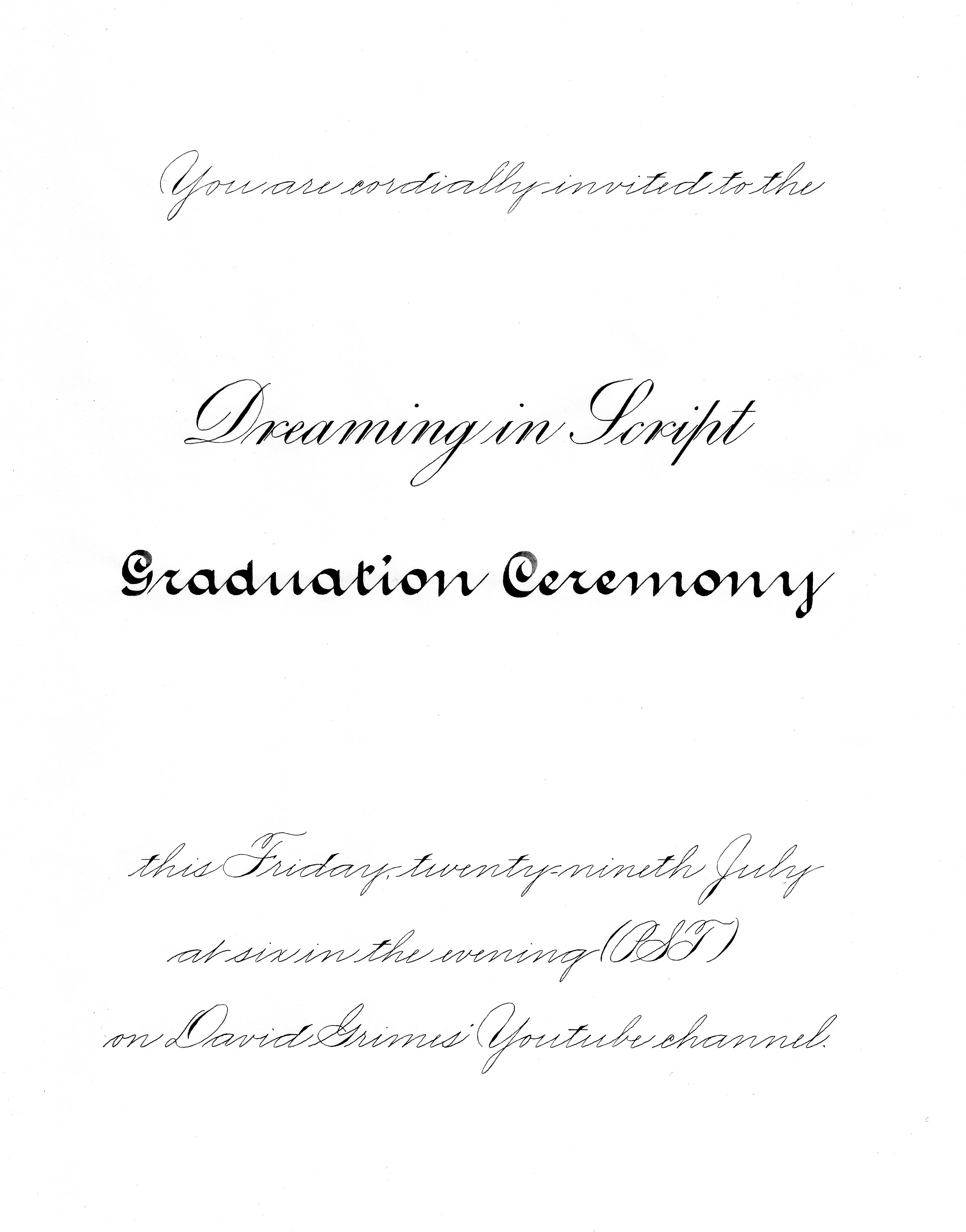 ---
July 6th, 2022
The Nameplate Project
This project is a DIS Engrosser's Script tradition. Students are tasked with penning a nameplate to be "engraved" and hung on the door of their first engrossing studio in a make-believe scenario that encourages each Dreamer to imagine themselves pursuing the pen as a living. The general format, layout, and sizing of each nameplate is established by the directions in the lessons, but students are encouraged to let their individuality and artistry shine through in their selection of a personalized tagline and use of artistic ornamentation (if they see fit!)
---
June 6th, 2022
So many would-be penmen neglect getting started until they can "get started on the right foot." I posit that there is not only no "right foot", but no "wrong foot" either. There is only the first step and the learning experiences that we have along the way.
---
May 7th, 2022
After much debate on the idea of putting my Instagram account to rest in favor of a more in-depth mode of sharing my calligraphic artwork, I have finally decided to embark on the next phase of my effort to spread the Art of Writing and preserve the history of American Penmanship. Thus, begins the era of Masgrimes on YouTube!
I hope you'll consider coming along for the ride.
---