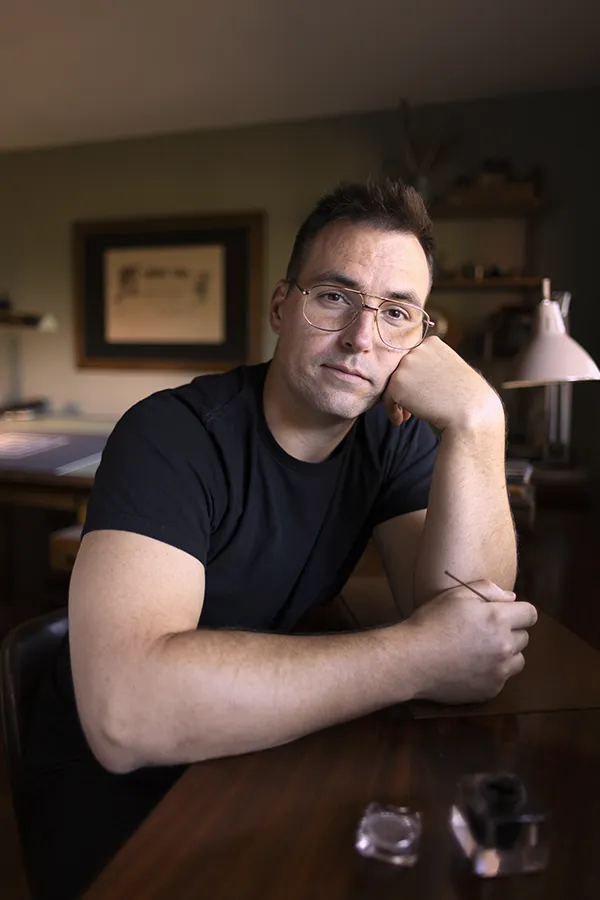 Contact David
Alternatively, feel free to leave a voice message instead if that's more your style. (971) 270-4965
Frequently Asked Questions
Are commissions accepted?
I accept commissions for traditional artistic penmanship and calligraphy. This includes fine art pieces, diplomas, certificates recognition pieces, awards, product labels/logos/branding.
I don't accepts projects for calligraphy on items like books, photographs, envelopes, clothing, etc. All work must be produced on paper supplied by my studio to ensure that the materials work well together. I'm happy to offer referrals if I cannot meet your deadlines or the demands of your unique project. Please submit a Request For Proposal to get the conversation rolling.
What styles can you write?
The styles of writing that a calligrapher can produce are known as "scripts". I can produce a wide array of western scripts with professional competency. My specialty lies in American Engrosser's Script.
How does pricing work?
Prices are estimated by the project. If you're working under a specific budget, share that with me and I'll be happy to show you what can be done. To get the most accurate quote, submit a thorough Request For Proposal.
Can you handle the framing?
I work closely with a number of framers to ensure that all artwork is protected from the drafting table all the way to your outstretched hands. These framers are trained in conservation framing and purchase archival materials from reputable suppliers. I do charge a framing fee from my end, but the costs from the framer are transparently passed on to you without being marked up. If you're interested in having your project framed, specify that when submitting your Request For Proposal.
When do your courses open?
I'm left-handed. Can I still learn?
I have had several accomplished left-handed students in the last ten years. Being left-handed introduces an extra step to the learning process where one must translate what a right-handed instructor is demonstrating, but many of the techniques are quite similar. I am familiar with common challenges facing left-handed students.