Care of penmanship specimens & lettering ephemera
Since you're on this page, there's a good chance that you've recently decided to evaluate the process of caring for a piece of historical penmanship that is in your possession. That's wonderful! Thank you for taking the initiative and acknowledging the responsibility placed upon our shoulders to carry these pieces of history forward for generations to come.
Above is a super-informative video covering some of the considerations you might want to have when creating a plan of care for your items. Below, you'll find information regarding handling and care of works on paper presented by the Library of Congress.
But first, here is some important reading: Why does paper degrade?
---
Proper Care and Handling of Works on Paper
Works on paper generally refer to flat (as opposed to bound) paper materials, including documents, manuscripts, drawings, prints, posters, and maps. Taking care when handling any collection item is one of the more effective, cost-efficient, and easily achieved preservation measures.
Take proper care when handling flat works on paper by:
Having clean hands and a clean work area
Keeping food and drink away
Using pencil, not ink, to make any necessary marks or inscriptions; in addition, only make inscriptions when the paper is on a clean, hard surface, to avoid embossing the inscription into the paper, which will be visible from the other side
Not using paper clips, other fasteners, "dog ear" folding to mark or organize leaves
Not using rubber bands, self-adhesive tape, and/or glue on paper
Preservation Guidelines for Matting and Framing
Preservation matting and framing describes materials and methods designed to limit environmental (e.g., from light, water, humidity, airborne pollutants, dust, surrounding materials, etc.) risks to the displayed object. All materials used in the frame package must be chemically stable.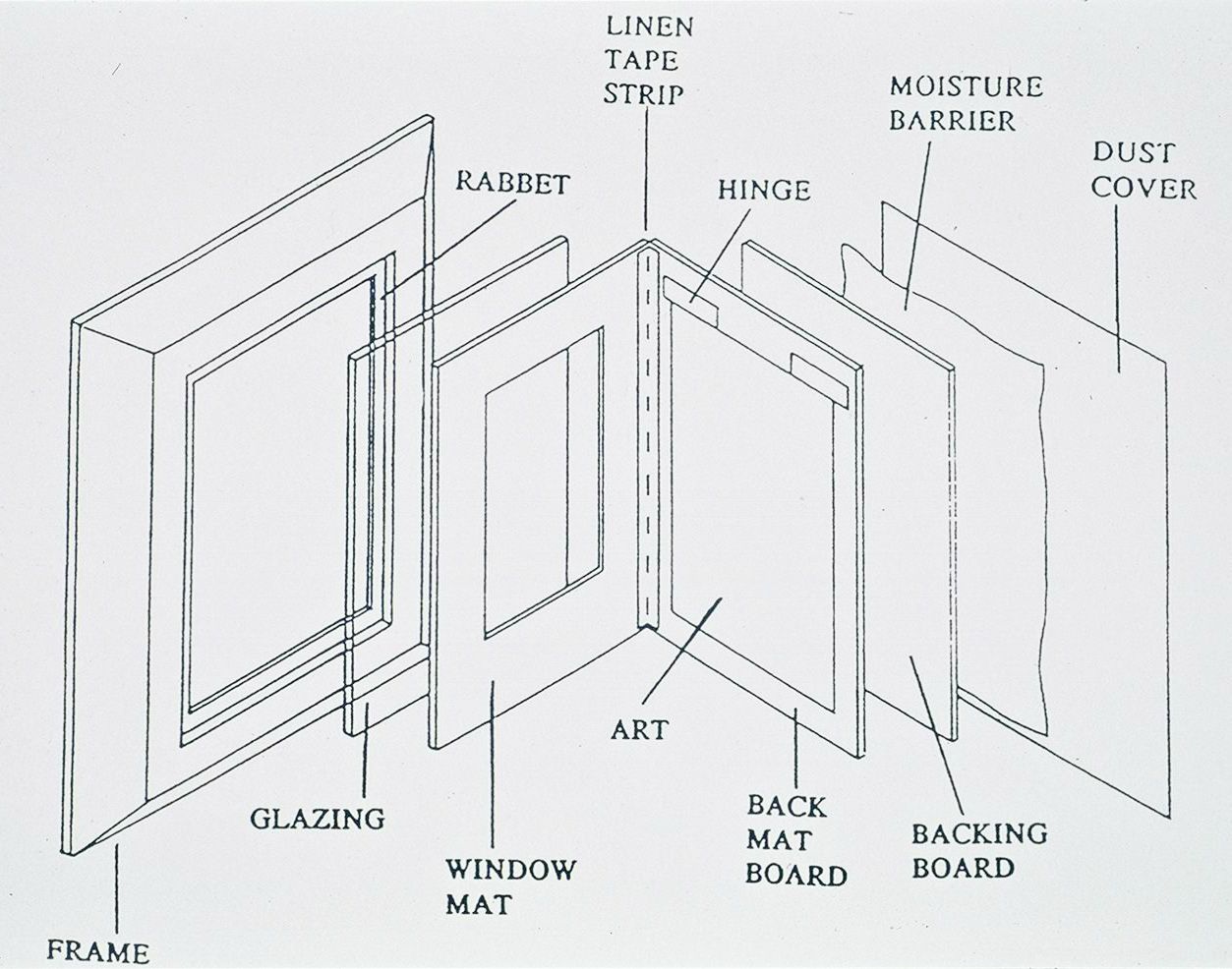 Topics to confirm with your framer:
Hinges: Non-adhesive hinging (e.g., photo/mounting corners; polyethylene strapping; mounting strips) whenever possible or Japanese tissue hinges applied with refined wheat starch paste
Matboard (for window and for backmat): 100% cotton rag or chemically purified, lignin-free wood pulp stock; pH-neutral or slightly alkaline (pH 8.5); 4-ply minimum; overmatting provides more protection than "floating" in the window; for matting photographs, board must pass the Photographic Activity Test
Tape for hinging the window and backmat together: Water-activated gummed linen tape; object should not touch linen tape
Glazing: UV-opaque acrylic (also available as anti-static for objects with friable media); ensure the object does not touch the glazing — use a sufficiently thick-ply window mat or add spacers along the perimeter of the mat
Backing board: acid-free and lignin-free corrugated board (necessitates an additional moisture barrier) or corrugated polyethylene or polypropylene; at least 3 mm thick
Moisture barrier: metalized polyester film; polyester film
Frame: metal or wood (if wood, rabbet should be lined with a barrier film (e.g., aluminum or polyester tape with acrylic adhesive) to prevent acids in wood from moving into the mat package); of sufficient depth to accommodate the complete package including the backing board; constructed to minimize potential for warping, bowing, torquing
Method for securing mat package in frame: pins or brads; no tape
Preferred places to hang or store framed objects
Out of direct sunlight or any intense light source; consider covering the frame with an opaque hanging cloth to block all light when the object is not being viewed
Away from working fireplaces or radiators
Away from intake or outtake vents
On interior walls, which do not reach the same temperature extremes or bear as much moisture as exterior walls
Out of attics, basements, or any other areas prone to environmental extremes and with high risk of water leaks
Off of the floor
Proper Storage of Penmanship Works on Paper
Good storage significantly prolongs the preservation of paper materials and includes:
A cool (room temperature or below), relatively dry (about 35% relative humidity), clean, and stable environment (avoid attics, basements, and other locations with high risk of leaks and environmental extremes)
Minimal exposure to all kinds of light; no exposure to direct or intense light
Distance from radiators and vents
Supportive protective enclosures*
Unfolded and flat or rolled storage for oversized papers
Individual/isolated storage of acidic papers to prevent acids from migrating into the other works on paper
* Supportive protective enclosures include: acid- and lignin-free folders, mats, and document boxes (all available alkaline buffered or neutral pH); and polyester film sleeves that are stiff enough to adequately support the paper(s) within. Alkaline buffered storage materials provide a desirable neutralizing effect on acids that are inherent in works on paper, especially as paper ages, but be aware that some media found on paper objects may be sensitive to alkaline pH. Polyester film has the benefit of being clear, but does not contain an alkaline buffer and with little friction readily produces an electrostatic charge that can lift powdery media such as pastel, charcoal, pencil, and flaking paint.
The Northeast Document Conservation Center has put together very useful technical leaflets on storage solutions for paper artifacts. Folders, boxes, plastic sleeves, and other supplies for the proper storage of paper artifacts can be purchased from preservation suppliers.
Dealing with Condition Problems
For condition problems that are insufficiently addressed by the measures outlined above, conservation treatment by a paper conservator may be necessary.
The national professional association for conservators, the American Institute for Conservation of Historic and Artistic Works (AIC), maintains an online directory for finding a conservator by specialty and geographic location and provides information on how to choose a conservator. In addition, AIC also offers guidelines for the care of collections beyond library materials.
---
Unsure about how to move forward with your collection?
You can contribute to this digital collection by submitting your historical items for scanning and free distribution. We are currently accepting items that are within the public domain, or items for which we can be granted license to share.