"Can I learn calligraphy online?"
Many people do! Maybe you're in a small town in the middle of nowhere, or something about your life make it hard to get away from home for even a day for yourself. Our online calligraphy classes are a great way to become a part of a calligraphic community while receiving encouraging guidance through every stage of the learning process.
We believe starting with a traditional foundation is a great way to build a long-term, goal-oriented practice that draws from the rich lessons of history. That's why we created Dreaming in Script; to consolidate years of practice into an easy-to-follow curriculum aimed at turning you into an exceptional penman.
What is Dreaming In Script?
Dreaming In Script is our online learning program that teaches the various disciplines of traditional American Penmanship and calligraphy. We've taken great strides to ensure it is entirely accessible to complete beginners and comprehensive enough to provide value to those who have been writing for years.
Dreaming in Script is built around a pathway framework. Pathways are areas of study in a specific style of writing or pen art. Each pathway begins with our foundational Intro to Calligraphy course, which provides a feel for the quality of our instruction, the depth of our explanations and knowledge, and a bit of guidance on what type of study you may be best suited for. Subsequent classes build upon that knowledge and introduce students to more advanced concepts, new challenges, and exciting achievements.
Here's our class lineup for this year:
Throughout 2022, these programs will be expanded to include the topics of:
Offhand Flourishing
Engrossing
Business Penmanship
Ornamental Penmanship
Earn your certificate
Students who complete each of the classes in a specific pathway qualify to graduate with a Certificate of Completion for that pathway. This certificate highlights each student's accomplishment and serves as a professional endorsement from the DIS staff and David Grimes. The class rubric is designed primarily for students looking for an academic/personal development environment.
Everyone is welcome, but the DIS curriculum aims to be the most thorough coverage on each topic that has ever existed. These classes are structured to get results. They're designed to turn you into an exceptional penman.
Check out our alumni page to follow up with past graduates.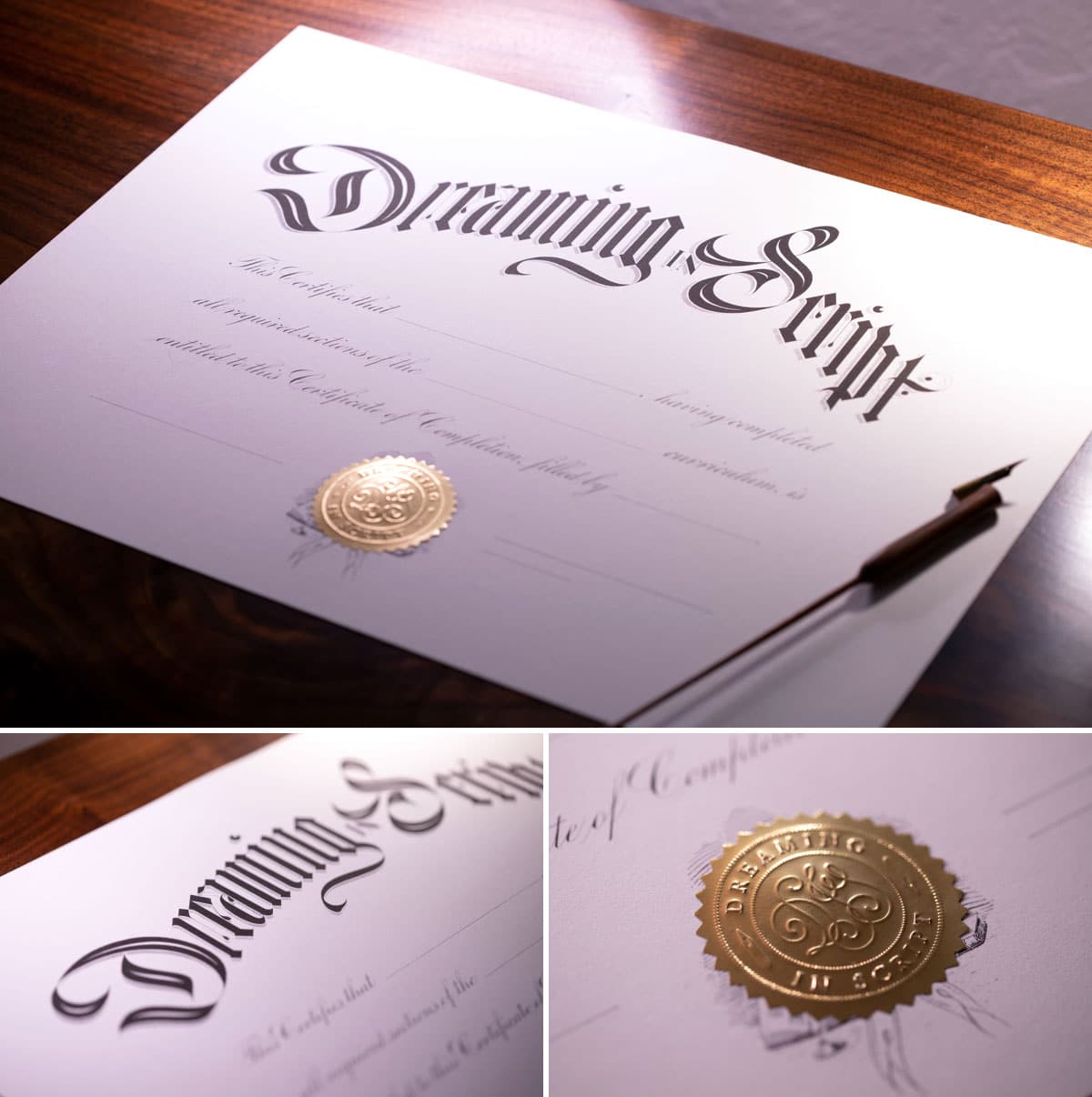 Study at your own pace
Courses in DIS are designed to support all kinds of students. The lessons "drip" at a prescribed pace so that you can't rush through the program, but if it takes you longer than that to get around to each lesson, that's fine by us. The whole experience tends to be pretty collaborative. We slow down the pace of the class if students need a bit more time on modules and zip through content everyone feels competent in.
Certificates are granted the January following your registration. Theoretically, you can complete all of the lessons for our longest course within 4-6 months, after which you'll have time to prepare for graduation and soak up all of the information you learned. We don't rush making these courses, so we won't rush you completing them.
During that time, you can participate in the community forum, join in our seasonal mailing exchanges, and slowly temper your skill with the pen. You retain access to all of your registrations for three years from purchase, so there's no pressure to complete the course content on anyone's schedule but your own. If you don't feel ready to graduate within a year, we will reach back out to you the following two years and invite you participate once you've had a bit more time to practice.
"Do I have enough experience?"
We hear from time to time that potential students are unsure of if they're ready to jump into something as "intense" as Dreaming in Script. Words like "traditional" and "formal" can be intimidating—we get that. Studying calligraphy in the way we present it in these courses will give you a whole new perspective on some of the scripts that you might have seen or studied elsewhere. We guarantee our approach is different, but that's a good thing! At the bottom of this page, you can read from past students to get an idea of what you will walk away with.
We aren't dogmatic. We're not closed-minded. In the Dreaming in Script community, we encourage thoughtful discussion and perpetual curiosity. We support the differences in each of our classmates. We lift each other up in ways that emphasize our individuality and lead us to become the best version of ourselves we can be.
On that note, DIS isn't just about learning to make great calligraphy. At the beginning of each class, students agree to a Code of Conduct that clearly outlines what we expect from our incoming students. We've found that getting everyone on the same page at the very beginning has helped us to build one of the most progressive calligraphy learning communities in the world.