"Can I learn calligraphy online?"
Learning calligraphy online in 2022 is the most common way that people are coming into the Art. Our online calligraphy courses are a great way to become a part of a calligraphic community while receiving encouraging guidance every step of the way.
Starting with a traditional foundation is a great way to build a goal-oriented practice that draws from the rich lessons of history. That's why we created Dreaming in Script; to consolidate years of practice into an easy-to-follow curriculum aimed at turning you into an exceptional pen artist.
What is Dreaming in Script?
Dreaming in Script is an online learning program that teaches the various disciplines of traditional American Penmanship and calligraphy. We've taken great strides to ensure it is entirely accessible to complete beginners and comprehensive enough to provide value to those who have been writing for years.
Each of our courses are built around a pathway consisting of prerequisites and a primary course of study. Each pathway begins with our Intro to Calligraphy class which provides a feel for the quality of our instruction, the depth of our explanations and knowledge, and a bunch of guidance specifically for beginners. Subsequent classes build upon Intro to Calligraphy and introduce students to more advanced concepts and new challenges.
When you register for one of our programs, you gain bundled access to the entire pathway for your area of study. This allows you to go through all of the prerequisites in a progressive sequence at the same time as your classmates.
Here's an example of two of our pathways that share a common prerequisite.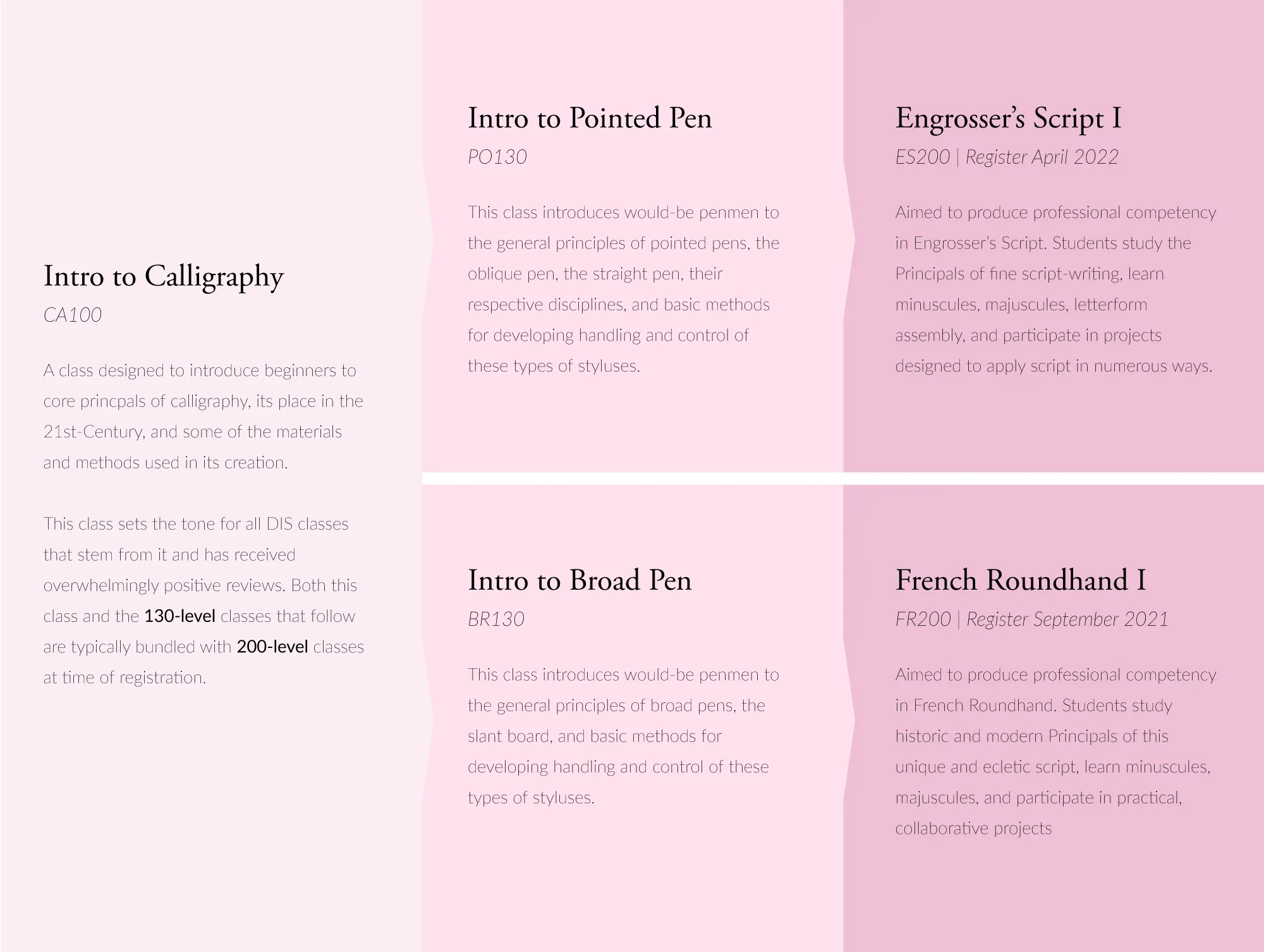 Earn your Certificate
Students who complete each of the classes in a pathway can qualify to graduate with a Certificate of Completion during the first year of their enrollment. This certificate highlights the student's accomplishment and serves as a professional endorsement from David Grimes. The class rubric is designed primarily for students looking for an academic/personal development environment.
Everyone is welcome, but the DIS curriculum aims to be the most thorough coverage on each topic that has ever existed. These classes are structured to get results. They're designed to turn you into an exceptional penman.
View our Alumni Directory »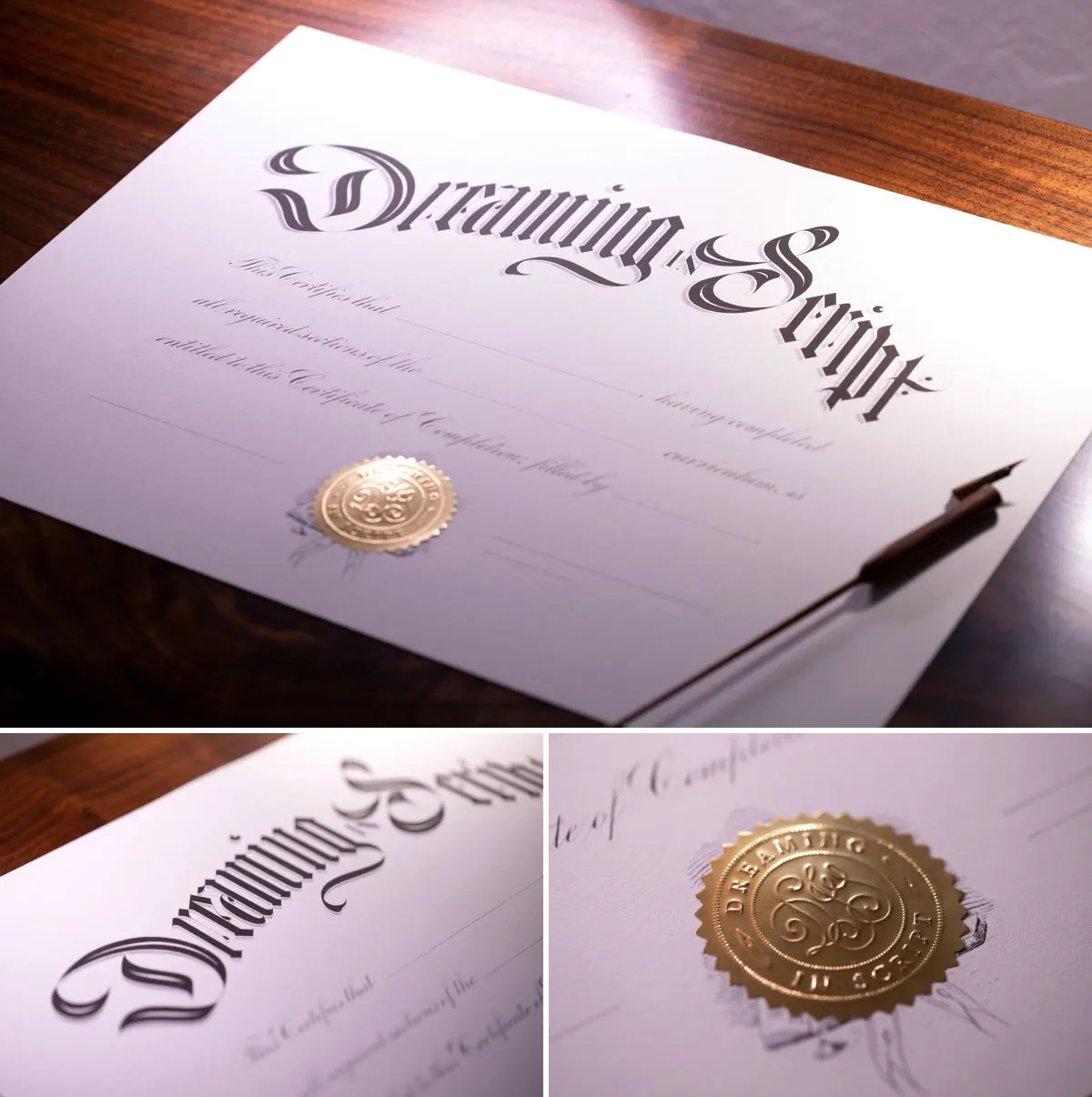 How are the courses paced?
Courses in DIS are designed to support all kinds of students. The lessons "drip" at a prescribed pace so that you can't rush through the program, but if it takes you longer than that to get around to each lesson, that's totally fine. The real reason to stay abreast with a course release schedule is so that you're able to speak with your classmates about lessons and assignments as they unlock.
You'll retain access to your courses for three years from date of purchase, so if you're not interested in pursuing a Certificate of Completion (only available during year one) or working closely with your classmates, there's no pressure to complete the course content on anyone's schedule but your own.
"What's the community culture like?"
We aren't dogmatic. We're not closed-minded. In the Dreaming in Script Community, we encourage thoughtful discussion and perpetual curiosity. We support the differences in each of our classmates. We lift each other up in ways that emphasize our individuality and lead us to become the best version of ourselves we can be.
DIS isn't just about learning to make great calligraphy. At the beginning of each class, students agree to a Code of Conduct that clearly outlines what we expect from our incoming students. We've found that getting everyone on the same page at the very beginning has helped us to build one of the most progressive calligraphy learning communities in the world.