Ink Tank Podcast
Episode 002 | The "Dream Nib" Crisis
On Friday, April 20th, 2001 at 6:42AM, Dr. Joseph Vitolo compiled an image consisting of six highly sought after calligraphy pen nibs—coining the phrase "Dream Points" or "Dream Nibs" and changing the way that vintage out-of-production nibs were traded, collected, and sold for the next twenty years.
My intention was simply to create an image of vintage points that I heard were spoken of as being very sought after "legendary nibs" used during the golden age. I included the Musselman too because it was my favorite…few people knew about it.

…Some folks have taken the information/image to mean that one of these nibs "will 'write like a dream' regardless of experience" or allow them to write like Madarasz. If only it were that easy.

…As for the nibs commanding ~$30 or more per nib…ridiculous.

– Dr. J. M. Vitolo
My dear friend, Michael Gebhart and I embark on a discussion surrounding the circumstances that have led to the price gouging commonly employed when trading these out-of-production nibs, some of our thoughts on the value of vintage tools, and ultimately where we think the community should refocus its energy.
Show Notes
---
The Magic Chalk (1:18)
Hagoromo chalk sets these mathematicians on the edge of their seats. They can't hardly seem to get enough of it. Writing with this chalk just makes you a better lecturer. But when the manufacturer goes out of business, these educators don't start searching for a sustainable alternative, no…they start stockpiling boxes of the stuff and trading on the infamous blackboard market!
I'm sorry, Michael. 😂
Vitolo's "Dream Nibs" (5:45)
We had the pleasure of speaking directly with Dr. Vitolo on this matter previous to recording this episode. There's a misconception that the original "Dream Point" list is a relic compiled by the penmen of old, but its origin really only stretches back to the early 2000s.
In speaking with Vitolo, we found that the nibs included in the list were simply those that he had heard of as being "highly sought after" by his colleagues—all nibs in use during the turn of the 20th century.
Within one year of publishing that image, eBay prices for these nibs skyrocketed as everyone tried to scoop up what stockpile they could of these out-of-production pen points. Vitolo recalled to me in a text an instance of a box of Principality nibs selling for ~$2000.00 USD.
From a practicing calligrapher's standpoint, this price simply isn't sustainable. The use of the "Dream Point" buzzword to elevate the marketability of almost any vintage nib has taken off in a way that nobody—not even Vitolo himself—could have planned or would have asked for.
What's in a nib? (20:27)
Diving into the processes and mechanics of manufacturing nibs is the best way to understand what separates vintage nibs from contemporary. To get a detailed look at all of the steps used for production in the 1930s, let's take a look at The Steel Pen by A. A. S. Charles.
This book is a great starting resource for almost everything you could want to know about pen production from the 1930s onwards. I have to give credit to Andrew Midkiff of The Steel Pen for sharing this book on his site, and for being a source of information and inspiration on the topic. Thanks Andrew!
Dream Lists
If you take one thing away from this episode, let it be that Dr. Joe's list of six nibs are his list. Zaner, Lupfer, Baird, Madarasz, Courtney, Canan, Flickenger, Ames…they all would have likely had a different list. Just because a nib isn't on this list doesn't mean that it necessarily performs any worse for certain scenarios. These six nibs are wonderful nibs, yes! But there are plenty of other types both vintage and modern which will make perfect substitutions.
To help reclaim the idea of having a "dream list" consider things that have value to YOU. In the case of historic specimens, Michael and I discussed our own personal specimen "dream lists".
Michael's Dream Specimens
David's Dream Specimens
C. W. Norder Specimens
E. A. Lupfer Zanerian Plates
W. W. Fike Business Penmanship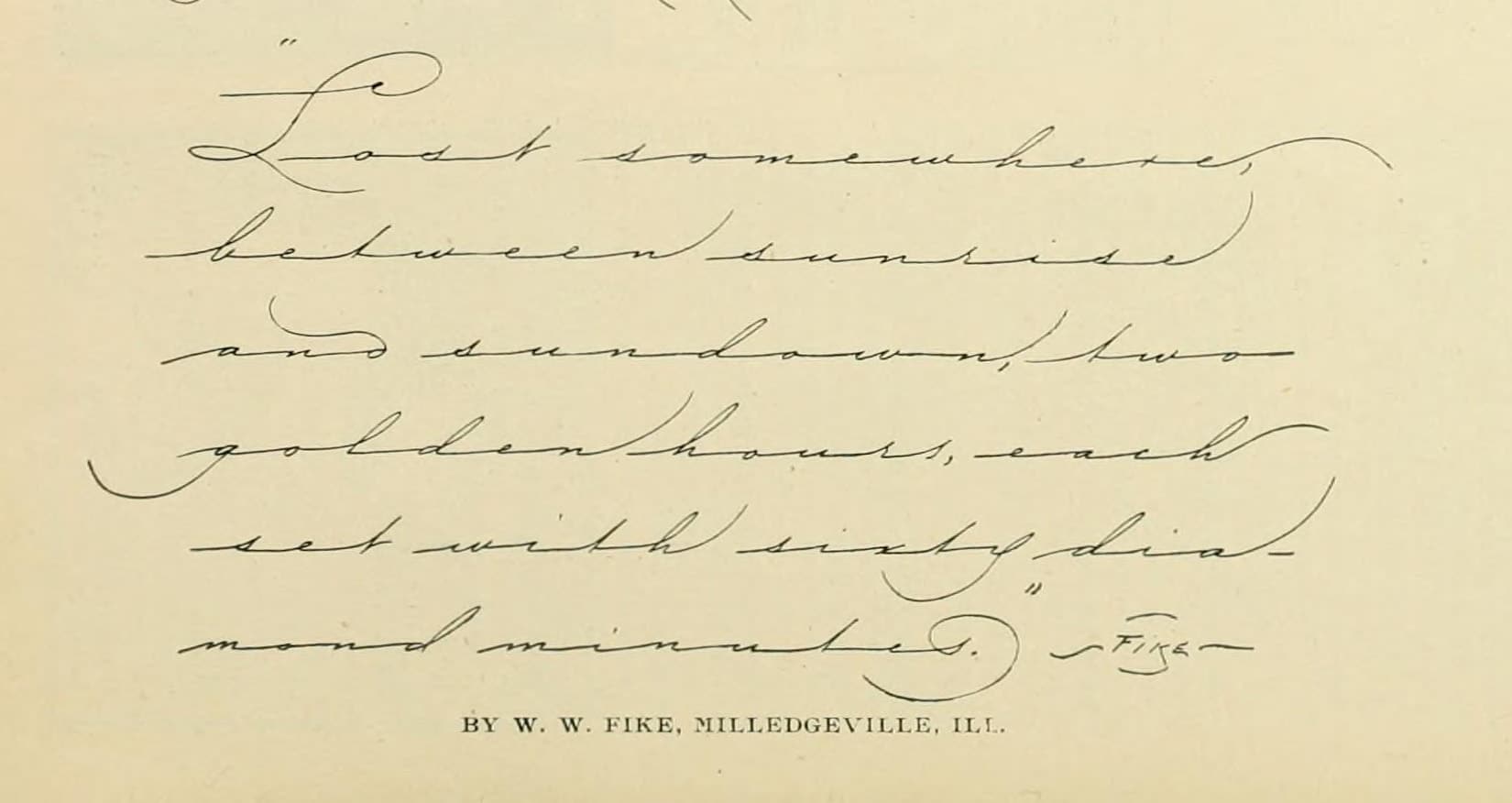 Right now, you can listen to the second episode at www.inktankpodcast.com, on Spotify, or most other places podcasts show up.
Please like/subscribe if you want to stay updated AND find at least one person to share with! Any way you can help us spread the word about Ink Tank is so appreciated.
Penmanistically yours,
---

Sign up to get monthly emails about calligraphy & the history of American Penmanship
No spam. Unsubscribe anytime.